Emulsion Flow Technologies and Re-Teck have joined hands in running global lithium-ion battery recycling programs
Emulsion Flow Technologies Ltd. ("EFT") signed a Memorandum of Understanding (MoU) with Re-Teck, Co., Ltd. ("Re-Teck") to begin consideration of collaboration on global lithium-ion battery recycling.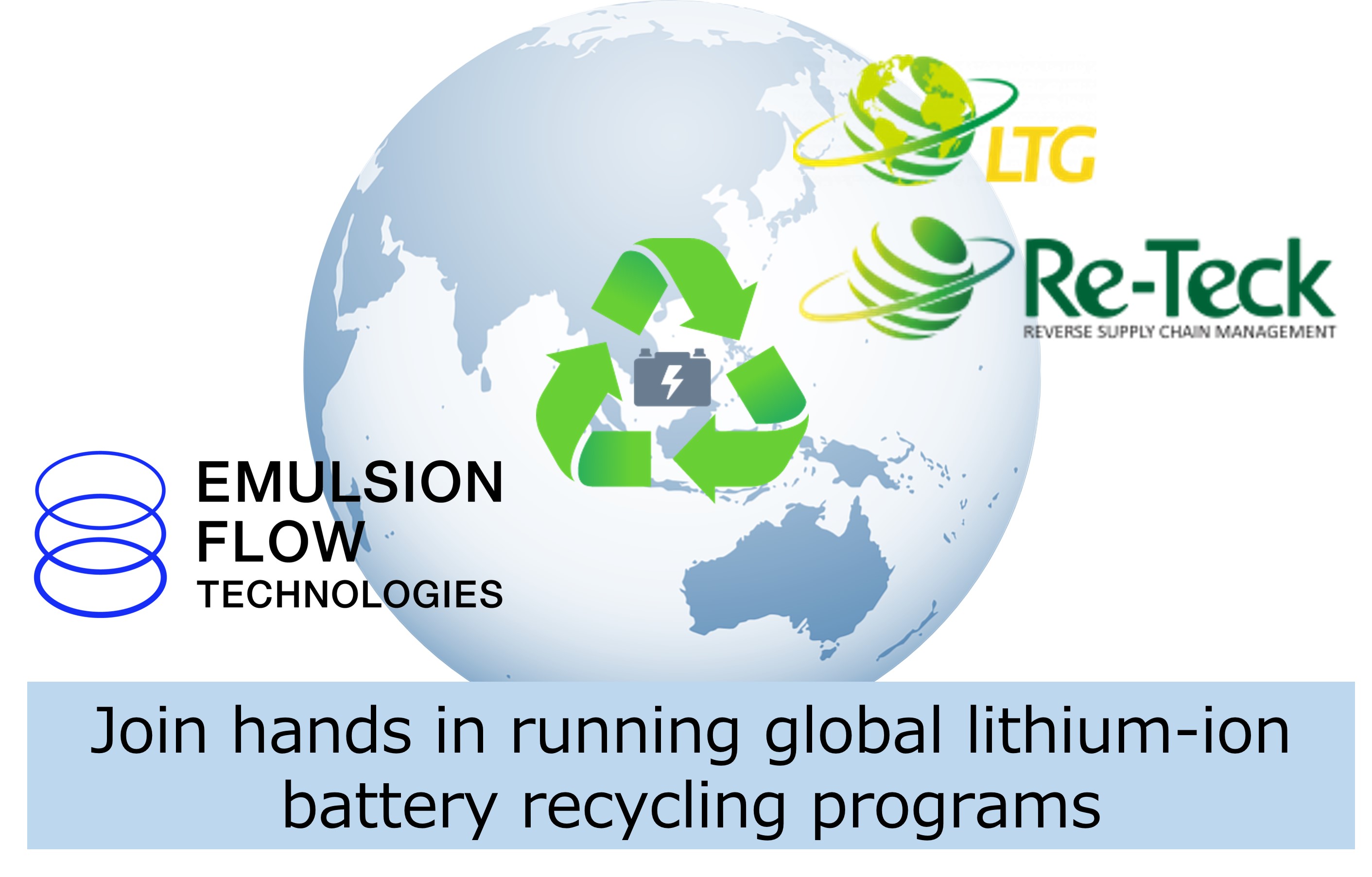 Due to the rapid diffusion of electric vehicles in recent years, the supply shortage of rare metals such as cobalt, nickel, and lithium used in lithium-ion batteries (LIB) will become apparent from around 2025. In addition, as the demand for rare metals increases, geopolitical risks surrounding rare metals, such as resource disputes, environmental destruction, and human rights violations, are growing concerns, and securing a stable supply of critical metal resources through recycling is a global priority.
EFT is a start-up established on April 5, 2021, to develop business utilizing emulsion-flow technology, which is a solvent extraction technology developed by the Japan Atomic Energy Agency. Emulsion-flow technology is an innovative technology enabling the separation of high-purity elements at lower cost and higher efficiency than is attainable with conventional solvent extraction technology and is expected to contribute to resolving social issues around critical metals. In particular, EFT aims to realize "horizontal recycling" using critical metals recovered with high purity by the emulsion-flow technology at low cost.
EFT and Re-Teck have signed a MoU to consider a business alliance aimed at the early commercialization of global LIB recycling. Re-Teck is a Japanese subsidiary of Li Tong Group (HQ: San Francisco, USA and Hong Kong), which operates a recycling business globally. Li Tong Group, established in Hong Kong in 2000, is a leading company in the environmental business that provides Reverse Supply Chain Management (RSCM) services [1]. Li Tong Group operates recycling businesses that mainly handle ICT equipment in APAC, EMEA, and Americas with its 30+ facilities around the globe. In addition, Re-Teck has also entered the LIB recycling business with their unique black mass production technology, and has a closed-loop battery recycling facility base in Dallas, USA with a capacity of several thousand tons per year. They are also expanding a black mass production base in Europe.
In this business alliance, EoL (End of Life) LIBs in ICT equipment and electric vehicles will be collected in Japan from the Asia and Middle East regions using the global network of Re-Teck. In Japan, furthermore, we aim to conduct a comprehensive LIB recycling business, from the production of black mass to the recovery of critical metals using emulsion flow. In other words, by maximizing and integrating Re-Teck's strengths in global LIB collection capabilities and unique black mass production technology, and EFT's strengths in emulsion-flow technology, we aim to grow Japan into a LIB recycling bases in Asia and the Middle East region. By the end of March 2023, we plan to formulate an implementation system, business model, business plan, etc. for commercialization, and start concrete collaboration from April 2023.
[1] RSCM service: A service that divides equipment collected from customers into four stages: equipment, components, parts, and raw materials, and reships them to the market at the highest level of added value.
■Explanation of the emulsion-flow technology
Solvent extraction, one of the methods to separate and purify substances, is a technique for selectively extracting only the target component by utilizing the distribution of substances in two different immiscible liquids. Emulsion-flow does not require a settling section (settler section) required for a mixer settler, which is a typical conventional solvent extraction technology. Therefore, Emulsion-flow technology is an innovative technology capable of achieving a production capacity that is 10 times or greater than that attainable with conventional technology. Therefore, equipment based on emulsion-flow technology can be downsized to at least 1/10 the size of equipment based on conventional technology, and, moreover, running costs are lower. Furthermore, the use of a multi-stage emulsion-flow extractor capable of continuous processing can achieve 99.99% purity or higher, realizing high-purity purification of critical metals at a lower cost and higher efficiency than in the case of a conventional mixer-settler.
■Re-Teck
Company name: Re-Teck Co., Ltd.
Head office: Kotobuki Building 8F, 3-10-4, Iwamoto-cho, Chiyoda-ku, Tokyo
Representative: Tsukasa Komorita, President
Capital: 99 million yen
Established: December 17, 2012
Company website: https://reteck.co.jp (in Japanese)
For more information about Re-Teck in English, please visit US site: